Managing a huge contacts list is never easy especially when you are trying to communicate with your friends and business contacts quickly and easily. Contacts Apps are a great solution for your Android device. These Android contacts apps allow you to effectively manage your contacts list so that you can easily find which contact you wish to use even if you have a large list. In this way, they allow you to spend less time going through your contacts and more time actually communicating with your contacts. For Android users there are very many Android contacts apps that can help you organize your contacts, but you may confused for there are so many Android contacts apps that you don't know which one is better. So, here we share the top 10 best Android contacts apps for you and hope this can be useful for you.
Sync. Me excels at keeping your contacts management as simple as possible. It also pulls all your contact information from linkedIn or Google+ and other social media sites. With Sync. ME, you can easily keeps these contacts updated as you update your profiles. What's more, it also comes with a number of extras such as photo sharing, birthday reminders and the ability to send digital greetings cards to your contacts.
Contacts + can completely and efficiently organizes your contacts and integrates social media accounts with your communications. It can also automatically lift photos from Facebook and Google+ and sync them with your address book. Besides, It is very convenient for you to view your contacts social media activity and posts on this contacts app, Contacts +.
Simpler Contacts doesn't incorporate with social media accounts. It is however a lot simpler and focuses on building a highly focused address book. It works to eliminate any duplicate contacts and similar entries in the contacts field. It also comes with a number of filters that make it very easy to find the people you are looking for.
DW Contacts & Phone Dialer comes in the free and paid versions and serves as both an address book replacement and dialer. It can be used to create contacts group and subgroups, allows for mass messaging, and allows for easy searching by name and also tracking of contact history. Most importantly, this contacts app is highly configurable and hence a favourite of many users.
PureContact is not designed to deal with a lot of contacts but rather customize a small group of frequently used contacts and make them highly accessible. It therefore functions as a speed-dialer that allows you multiple functionality on any one of your contacts. You can choose from various actions such as making calls, SMS, email and even WhatsApp messaging.
FullContact allows you to full import your contacts to it. It then manages the contacts, eliminating duplicates and similar entries to streamline your address book. Though this contacts app, you can easily tag, add notes, edit and enter information on to your address book. You can also add multiple address book.
True Contacts works very well to sync your Gmail and address book contacts. You need to connect it to your Gmail account in order to it to work. It allows you to also easily add any additional information you may want to your address book.
Google Contacts in one of the best core contacts manager in android because it makes you feel like pure vanilla android which can be found in Pixel, Nexus and Moto devices.
Features of Google Contacts 
Back up your contacts and sync them across all your devices
• Safely back up the contacts in your Google Account to the cloud
• Access the contacts in your Google Account from any device
Keep your contacts organized and up to date
• View your contacts by account (e.g., work vs. personal)
• Easily add contacts and edit information like phone numbers, emails, and photos
• Get suggestions for adding new contacts, cleaning up duplicates, and more
Contacts is currently only supported on devices running Android Lollipop and above.
Contacts Ultra unifies all of the contacts found in all of your different social media accounts. It also allows you to add specific accounts to be viewed as originating from specific accounts such as Gmail account. It allows for easy navigation, allows easy access of information including a contact picture and the ability to sort contacts by name or conversation.
Contacts Optimizer allows you to easily organise your contacts and eliminate any duplicates. But the best thing about this app is that it has an edit contacts feature that is so easy to use and also comes with a move to account function. It also allows for a quick delete functionality that come can in handy.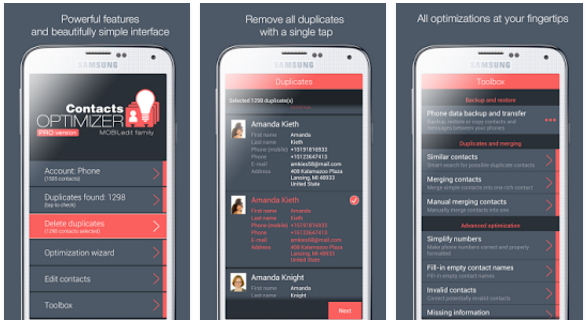 Smart Contacts Manager is such a contacts app that brings the aspect of security to your address book. That's because it allows for the use of password protection in the form of a 4 digit pin. It also allows for easy backup of your contacts which means you can always have a copy of your contacts in case you lose the data.
Each one of these contacts apps has its own strengths and weaknesses. What they have in common is that they each have special features that allow you to properly manage you contacts. Some of them are completely free to download. Others have a free version and a premium version. Whichever you choose, ensure that it is the right one for the job and that it can be useful to your particular needs when it comes to contacts management. The right choice for you will depend on the size of your contacts list and the features of the particular application you will find useful.
Truecaller is a fantastic app for identifying unknown callers and spam calls as well.
250 million people trust Truecaller every day to identifying unknown calls, block spam calls and spam SMS. It filters out the unwanted, and lets you connect with people who matter.
Truecaller is the only app you need to make your communication safe and efficient.
Truecaller is also a Powerful Dialer:
– The world's best Caller ID will identify any unknown caller
– Block spam and telemarketing calls
– See names of unknown numbers in the call history
– Flash messaging – Share location, emoji & status in a flash to your friends
– Know when your friends are free to talk
Smart SMS app:
– Automatically identify every unknown SMS
– Automatically block spam and telemarketing SMS
– Block by name and number series
Truecaller has full dual SIM support!
Truecaller will not upload your phonebook to make it public or searchable.
http://kamiltech.com/wp-content/uploads/2017/11/Contacts-.jpg
744
1464
Kayyum Patel
http://kamiltech.com/wp-content/uploads/2015/11/logo2-300x88.png
Kayyum Patel
2017-11-29 23:31:35
2017-11-29 23:42:01
12 Best Contact Apps for Android