As a computer tweaker, I know how to do some things which reduce my work and also save my time.
For that, I always prefer installation of any "Operating System" using usb because usb is far more faster then CD, DVDs.
Today I will show how you too can make a bootable usb drive of Operating System or any other tool and boot your computer from that usb drive.
Prerequisites:
You may lose your computer data, so please do backup before processing.
I am not responsible if you do any damage to your data or to your device. Please do at your own risk.
Requirements:
Rufus: The application to make your usb drive  bootable from an ISO.
You can download Rufus from here.
Operating System Image: ISO image from which we will create a bootable usb drive with rufus.
You can download Windows OS ISOs from here and Linux ISOs from here and other Tools from here
Before directly going to process, First I tell you about Rufus.
Rufus is a small & simple tool, but very excellent for Windows that handles a lot of work formatting USB drives and making them bootable. Most notably it can burn most ISO files to USB very efficiently.
The features of Rufus I liked most:
Burns any Windows ISO (XP, 7 or 8)
Burns any Linux-based ISO (ArchLinux, Ubuntu, Knoppix, etc)
Burns a number of handy ISOs (Hiren's Boot CD, FreeDOS, BartPE, Ultimate Boot CD)
Handles UEFI as well as legacy booting
Handles GPT as well as MBR partition tables
Open source
Now, back to the process.
Below are the steps to follow for making a bootable USB drive using rufus.
First of all, Run rufus.
You will see the dialog box like below.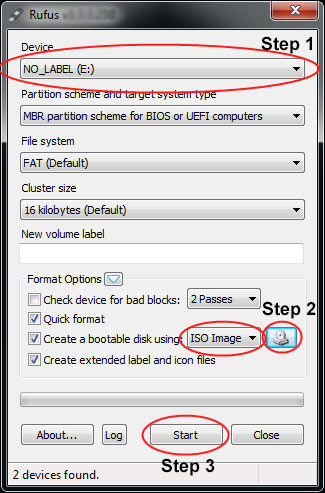 Follow the steps as shown in above picture.
Step 1: Attache your USB Drive (Pen drive or any USB drive) to computer, Rufus will show your USB drive in "Device" section at the top of the Rufus Application (as shown in Step 1 in picture).Choose the USB Drive. This is shown as NO_LABEL in Rufus but your USB Drive may have different name.
Note: Leave all the settings as it's defaults as the settings are not intended for beginners.
Step 2: After selecting your USB device, Click on a small icon as shown in picture above at Step 2, New dialog box will open-up for selecting an ISO image of desired Operating System/Tool you want to add in your Usb Drive. Select the ISO Image and click ok as shown in picture below.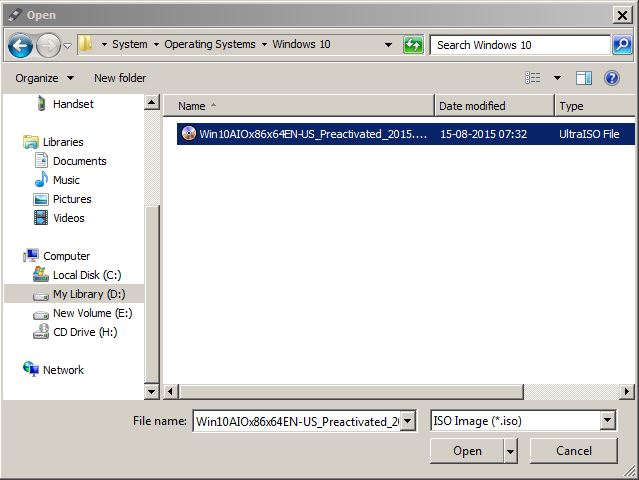 Step 3: Press 'Start' to let Rufus burn the ISO. Once Rufus is finished you can reboot your PC and choose your phone from your bios to boot off of your newly burned ISO. Enjoy!
You can watch this topic in video tutorial also
Note: If the USB drive is not showing up in Rufus, click on the white triangle next to 'Format Options' and check 'List USB Hard Drives'.
---
Please share by clicking below social links if you find this article helpful. You can also donate.
Please leave comment if you have any query.
---
Don't forget to like us on Facebook and Google+ as well as share this to your social networks to support us.
Please comment below if you have any query.
http://kamiltech.com/wp-content/uploads/2015/12/featured_bootable.jpg
514
628
Kayyum Patel
http://kamiltech.com/wp-content/uploads/2015/11/logo2-300x88.png
Kayyum Patel
2015-12-09 14:18:18
2017-10-28 23:56:04
Create a bootable usb drive using rufus