What is System Restore?
Programs you install can make changes to your system settings, and occasionally this can cause problems with your computer. System Restore is often the easiest way to fix these problems. System Restore allows you to "rewind" your system settings to an earlier point in time, called a restore point. Keep in mind that this will not erase your recent documents, and it cannot be used to recover lost documents or other files. However, it can uninstall recent programs and drivers.
To run System Restore:
Click Recovery at the bottom of the Action Center.

Click Open System Restore.
Follow the instructions on the screen.
You will be asked to select a restore point. If you've just installed a program that seems to be causing problems, you will probably want to restore your system to the point just before that program was installed.

Click Next to continue working through the steps. When you are finished, Windows will restore your system to the point you have selected.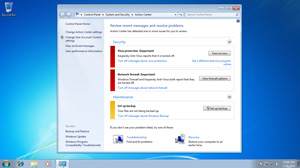 Security and maintenance are ongoing processes, so you should revisit these tools from time to time. Try to deal with Action Center messages as quickly as possible, and even if you don't have any messages you can always explore the troubleshooters if your computer is running slowly or if something isn't right. Spending a little bit of time on security and maintenance can help you get the most out of your computer, and it can even save you time in the long run by helping to prevent serious problems.
http://kamiltech.com/wp-content/uploads/2015/11/logo2-300x88.png
0
0
Kayyum Patel
http://kamiltech.com/wp-content/uploads/2015/11/logo2-300x88.png
Kayyum Patel
2017-08-08 08:15:10
2017-08-08 16:21:38
Recovering settings with System Restore