Google Chrome is one of the best web browser in the world, thanks to it's swift performance & easy syncing with mobile devices. but the google chrome has a vast collection of extensions available from Chrome Web Store. There are millions of extensions available in Chrome Web Store but as we all know, nobody needs thousands of plugins or extensions, everyone needs just about 2 to 10 extensions. so, I will show you 10 best extensions for Google Chrome Browser.
Note: Extensions may slow down your browser, so make sure you stick to what you think will be most useful.
Pushbullet is a handy combination of Android or iOS app and browser extension that allows users to easily share files, notifications, links and other material between your phone and your computer. Pushbullet can send you your phone's notifications, such as instant messages and calls right to your desktop, and in turn, you can also share notes, links, lists and files across all of your devices. Pushbullet has also introduced a "Channels" feature which sends notifications from a variety of sources such as online deals, news, website newsfeeds and more.
Your messages, photos, songs, and links live in many places. They live on your phone, tablet, computer, and all the other devices that are a part of your life. Sometimes they come from friends, and sometimes from people you follow. Pushbullet is a place where they can all come together and be easily accessible.
Tired of memorizing Alt-codes and other means for inputting accented vowels and other foreign language characters? Google Input Tools is a handy Chrome extension that provides a variety of custom keypads, handwriting tools, autocomplete dictionaries and other input methods for users that need to input text in a variety of languages.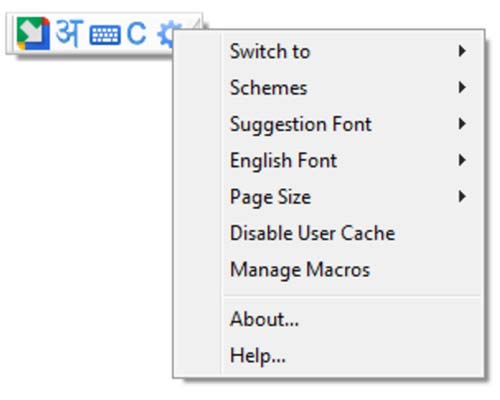 Google Input Tools Chrome extension allows users to use input tools in any web pages in Chrome. To use Input Tools Chrome extension, follow these steps:
Click the extension icon and select "Extension options"
In the "Extension options" page, select the input tool you want from left to right.
Double click on the left to add an input tool. Double click on the right to remove a selection.
Sort selected input tools by clicking on an input tool on the right, and clicking on and icons.
To use an input tool, click on the extension icon. In the drop-down menu that appears, select the desired input tool. With an input tool turned on, the extension button becomes a full colored icon, such as

. When an input tool is off, the button is grayed out
. Clicking on "Turn off" will toggle off an input tool. You can also click on the selected input tools to toggle on/off.
Now you have toggled on an input tool, open a web page, move the cursor to the input box, and start typing. If it doesn't work, refresh the web page by clicking on

.
Hola is a free and ad-free VPN proxy service that provides a faster and more open Internet.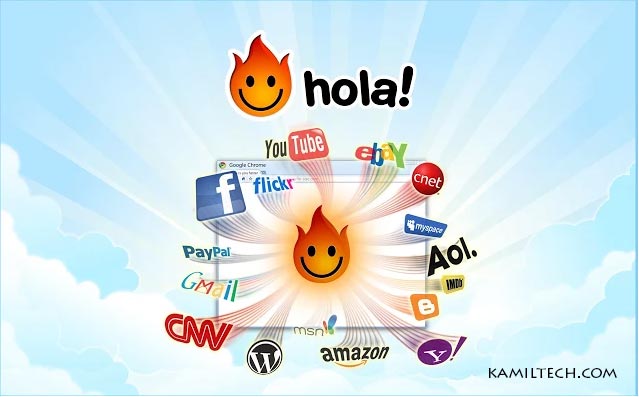 Hola Better Internet is a free VPN proxy service that allows you to bypass region-locks and access content or media that might be restricted or censored in your country or network. Basically, Hola bypasses region locks by routing traffic from your computer to a proxy server in a different country, and even does this all for free, so long as you're willing to let Hola use your own computer as a proxy for other users (or you can subscribe to the premium version for $5 per month if you want to skip that requirement).
Turn Chrome's New Tab Page into a productivity center with Taco, a Chrome extension that pulls your incoming tasks and notifications from more than 40 Web tools and services. Taco works with a variety of services, such as Trello, Asana, Todoist, webmail, Google Tasks and iCloud. Users can then drag and drop to organize the tasks list, mark tasks as done, as well as hide notifications. It's a great way to see everything you need to do in one convenient page.
For something a bit lighter than the extreme to-do functionality of Taco, check out Momentum. This Chrome extension turns the New Tab Page into your personal dashboard. Fire up that page and Momentum delivers a personalized greeting, an inspirational quote for the day, a to-do widget, weather report and a quick links widget for your favorite websites.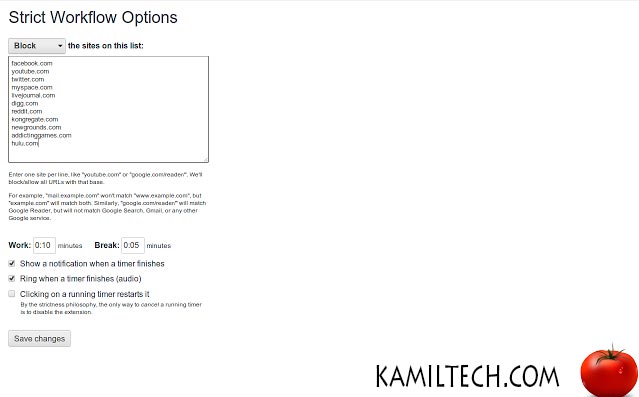 Viral media sites, social networks and other online pastimes can quickly eat through time that you could be spending on something productive. Strict Workflow is a productivity app that takes inspiration from the popular Pomodoro method by setting up a 25 minute countdown during which the extension automatically blocks known timesinks such as Facebook, Twitter and Youtube. Once the timer is done, you get a 5 minute break with unlimited access, after which the cycle repeats again. Once you start the countdown, there's no way to shut it off. You can tweak the blacklist or whitelist, as well as configure the duration and other settings.
Automatically suspends unused tabs to free up system resources.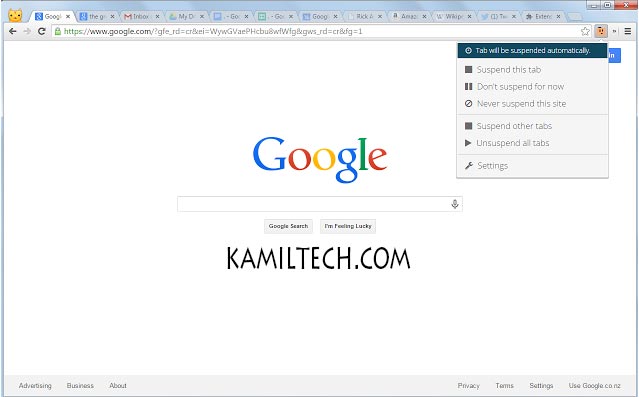 Tabs in moderation can be a productivity booster, but keeping too many of them open quickly leads to a massive drain in your PC's memory resources. The Great Suspender comes to the rescue by monitoring your open tabs and automatically (or manually) unloading tabs that haven't been used in a while from memory, while retaining the tab's title and favicon on your tab bar. Users can then quickly reload the tab by clicking on the screen.
Simply browse to the page you wish to cite and click the button to generate a correctly formatted citation. Then copy-and-paste the citation into your assignment, or add it to your online bibliography for safe keeping until later.
Properly attributing online articles and research can be a pain for students and writers. Cite This For Me comes to the rescue with a browser extension that allows you to quickly create a properly formatted website citation for the APA, Chicago, MLA, and Harvard citation styles, which you can easily save or copy to the clipboard for use in your documents.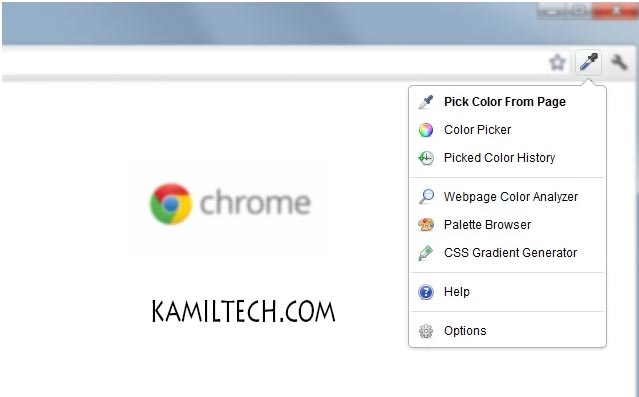 If you do a lot of graphic design work with websites, you know that getting the colors just right can make or break an entire project. ColorZilla is a handy tool that easily allows users to create exact color matches using an eyedropper tool that can output RGB and Pantone codes. ColorZilla also comes with a gradient generator, palette viewer, a Web page color analyzer for quickly coming up with a site's palette, the ability to take colors from Flash objects, and other helpful features.
TabCloud allows tabbed browsing addicts to easily save and import their open tabs across desktops. Users can save all of their currently open tabs to the cloud, and then open some or all of their saved tabs on another desktop machine at their convenience. Users can view their saved windows, selectively open tabs from particular windows or even drag and drop tabs from one saved window to another.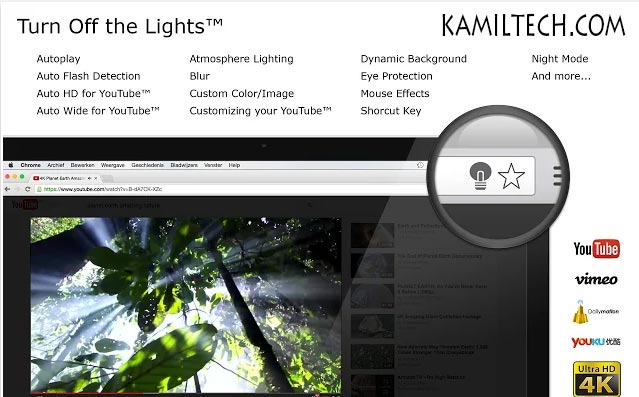 Turn Off The Lights provides you with atmospheric lighting for your online video viewing on Chrome. At its simplest, you can set Turn Off The Lights to automatically dim your window background when using YouTube or other video sites. If you want to get more in-depth, you can customize the add-on to set custom colors to your screen while playing videos, set atmospheric lighting, fade effects and toggle a night mode for an experience that's more akin to a home theater than a run-of-the-mill video site.
Synata helps you make sense of your assorted cloud storage accounts by serving as a single synaptic search tool for sorting through your files and documents. Simply create a Synata account, link your Dropbox, Box or Google Drive accounts, and then use the Synata extension to quickly search for documents, photos and other files. In addition to the services listed above, the Synata team is working to expand the list of cloud services they support to include Evernote, Office 365, Sharepoint and more.
Disconnect is a powerful browser add-on for Chrome that allows users to see advertising, analytics and social media tracking cookies, with the option of disabling them globally or selectively. The extension comes with a host of features, including the ability to create whitelists and blacklists of permitted trackers, a visualization tool for listing the trackers on a particular site and an indicator of how much time and bandwidth is saved by blocking trackers and other elements.
StayFocusd is a godsend for users who fritter away their time instead of working. Users can set themselves a time allowance for particular sites and timewasters, such as social networks, feed readers or TVTropes, and once you've hit that limit, StayFocusd blocks access. The extension is highly configurable, allowing you to block access to a particular blocklist, restrict access to everything except an approved list or even block access to all websites.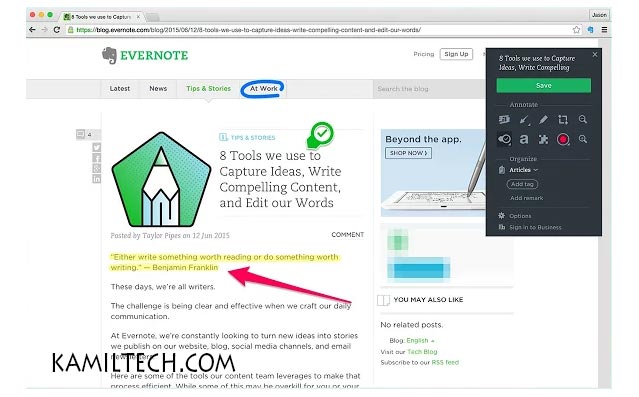 Evernote is one of the most popular note-taking tools available, and its powerful Evernote Web Clipper allows users to quickly and easily save Web content from their Chrome browser straight into their Evernote notebooks. Clip full articles or Web pages, or save more optimized, distraction-free versions. This powerful extension also lets you take screenshots, save as PDF, and mark up content and images.
Feedly is the world's most popular RSS and blog reader with more than 15 millions users. RSS re-invented.
Stepping up to the plate since the demise of the late, lamented Google Reader, Feedly is an excellent online RSS reader that is feature packed and highly customizable. Options for the traditional list style let you blaze through loads of content, while a more visual magazine style allows for a more stylish presentation. Feedly includes cross-device synching with desktop, Android and iOS applications, putting your feeds within reach anywhere you go.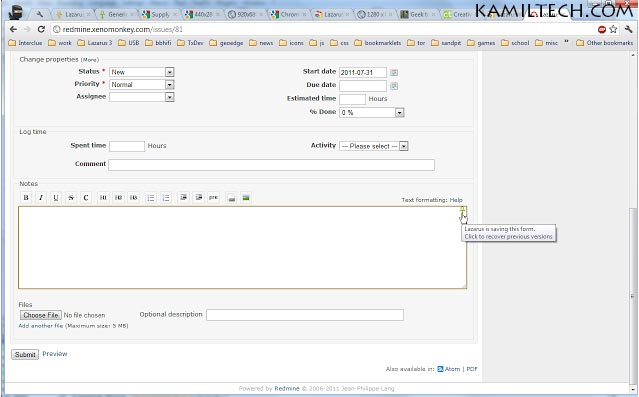 We've all been there: a storm knocks out power, or perhaps a pet or child accidentally yanks your PC's power cord. If you were busy working on complex Web forms, you'd think all your work was lost, right? Well, Lazarus Form Recovery comes to the rescue. Lazarus automatically saves form information to your computer as you type, allowing you to safely and easily recover work in the event of a power outage, server timeout, browser crash or whatever else Murphy's Law decides to throw at you.
Hover Zoom is a helpful little extension that zooms in on pictures that you hover over. Easily navigate through image galleries by just hovering over a thumbnail to view the full picture. No more messing with new image tabs or loading new pages. Large images are automatically resized to fit your screen.
HTTPS Everywhere is a Firefox and Chrome extension produced as part of a collaboration between the Tor Project and the Electronic Frontier Foundation. HTTPS Everywhere helps encrypt your online browsing and communications by rewriting HTTP link requests to HTTPS when within a whitelist of sites that support HTTPS.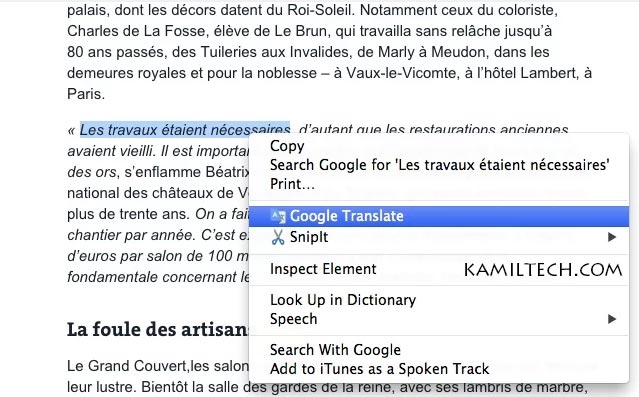 While Google Translate is already an excellent Web service for translating snippets of text to and from languages, the addition of a Chrome extension allows you to translate entire pages with a toolbar button. The extension automatically detects whether the site you're on uses a different language from your Chrome default, and can offer to translate it automatically. Users can also easily translate snippets of text, as well as listen to the proper pronunciation of translated words and phrases.
The Panic Button Chrome extension hides and saves all of your opened tabs with a single click, allowing you to quickly hide any incriminating tabs and page views if you suddenly have an unexpected visitor or an emergency situation comes up. Once things are back to normal, a single button press can restore all your tabs. Hidden and saved tabs can also be password protected so that only you can swiftly restore your session.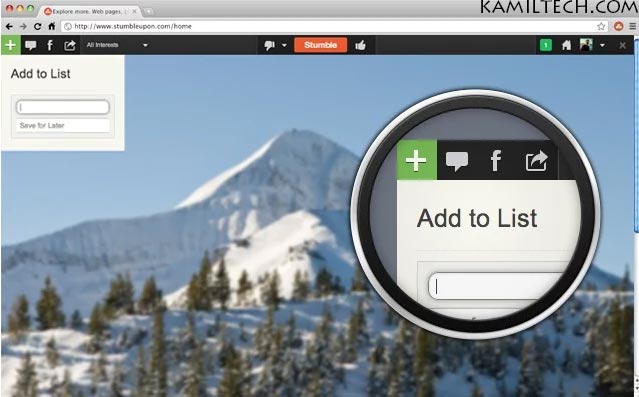 The StumbleUpon extension helps users discover interesting news stories, articles, photos and websites recommended by other users based on predefined interests, as well as share and recommend Web content to other users. Define an interest profile and then click the Stumble button to be brought to a random page, or narrow your Stumbling to an individual interest or topic.
Enjoy a faster, safer and cleaner browsing experience.
Ghostery is a free browser privacy extension that allows users to quickly and easily detect and block Web trackers designed to tag your movements across the Internet. In addition, Ghostery allows you to look up more information about companies and websites using these tracking methods. The extension also provides links to their privacy policies and opt-out options.
Many users are heavily invested in Google's wealth of online services such as Gmail, Maps, Google+ and Google Translate. The Black Menu add-on exists as a configurable pop up menu on your browser bar that provides you with one-click access to your favorite Google sites and services. Quickly bring up a map window, check your G+ notifications and post to your profile and access the goo.gl URL shortener with this handy extension.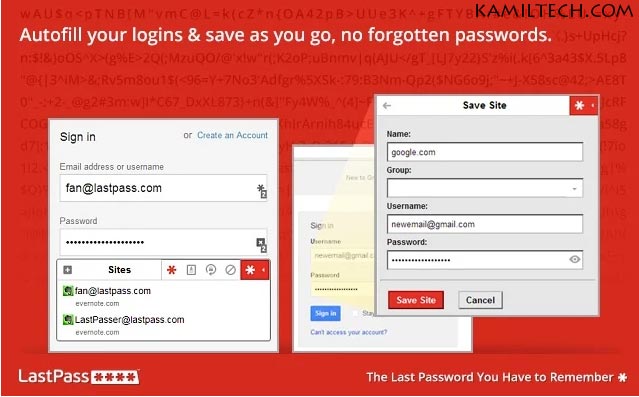 LastPass is an online password manager and Form Filler designed to reduce the headache of managing multiple user accounts and passwords, making your browsing experience easier and more secure. LastPass also includes the ability to import and export passwords from major password storage services such as RoboForm, 1 Password and KeePass, as well as Chrome, Firefox and IE's built-in password managers.
Web of Trust is a crowd-sourced browser add-on that rates websites with a color-coded symbol based on a site's trustworthiness, vendor reliability, privacy and child safety. While any reliable Internet security and antivirus suite can protect you against malware, Web of Trust gives you an extra layer of defense by allowing you to gauge a link's reliability based on the experience of other users worldwide.
Pocket allows you to save articles, Web pages, images and videos for your reading or viewing pleasure. Then it syncs everything across numerous devices, such as your smartphone or tablet. There's also a new Pocket Chrome App for viewing saved content on your desktop.
Deletes typed URLs, Cache, Cookies, your Download and Browsing History…instantly, with just 1-click on Click&Clean button!
Click&Clean is a handy utility that allows you to preserve your surfing privacy by scrubbing away traces of your online traffic in your local system. This includes the ability to scrub your browsing history and cookies, as well as dump your temp file cache. While most of these activities can already be done within Chrome's settings and preferences, Click&Clean puts all of these features in one place, helping you keep hard drive bloat to a minimum while reducing malware risk. This extension is great for the privacy conscious or those sharing a machine.
Perfect your English with Ginger Page – Contextual Grammar, Spell Checker, Synonyms, Translations and Dictionary!
Most expression on the Web is written, which means a netizen's reputation is largely dependent on the quality of text he or she posts on social networks, leaves as comments or sends via email. Ginger goes beyond mere spell-check and provides a grammar-check as well. Potential errors appear marked with underlines, just as they're indicated in popular word processing applications such as Microsoft Word. Users just have to right-click on marked words and select a suggested correction.
A must-have for any power surfer, Awesome Screenshot provides the tools that make capturing and annotating portions of Web pages dead easy. Captured screenshots can be saved right to the user's computer or uploaded to awesomescreenshot.com for easy sharing. Record entire Web pages with ease and save images even over the old 2MB limit.
What does "schadenfreude" mean again? With the Google Dictionary extension installed, double-click on a word on a Web page, and the definition instantly pops-up. These pop-ups can also translate foreign text into your default language or provide links to more detailed definitions from resources like Wikipedia.
---
Don't forget to like us on Facebook and Google+ as well as share this to your social networks to support us.
Please comment below if you have any query.
https://kamiltech.com/wp-content/uploads/2015/12/Chrome-Logo.jpg
500
800
Kayyum Patel
http://kamiltech.com/wp-content/uploads/2015/11/logo2-300x88.png
Kayyum Patel
2016-01-03 21:10:38
2019-09-05 22:26:00
31 Best Google Chrome Extensions