Need to join a remote support session or an online meeting? Click below to get started in seconds. No installation necessary! Just download and double click to launch.
Download TeamViewer for Remotely Accessing your Home Computer from your Office or your Office Computer from your Home. TeamViewer is one of the best applications to remote access.
TeamViewer is available for Windows, MAC, Linux, Android, Chrome OS, Windows Phone as well as Blackberry.
There are many companies out there that offer software and services which will allow you to remotely control one computer from another or even from a smartphone or tablet. Some of the more well known companies that you may have heard of include GoToMeeting and WebEx. TeamViewer is another product that allows remote access and control and does a great job without a serious learning curve. TeamViewer has been around for a long time but it's worth mentioning because if you are looking for something easy to use and free then it's one of your best options. Now keep in mind that TeamViewer is free to use for personal use only, not to run a remote tech support company with. If you want to use some of the more advanced features or use it on a large scale then you will need to buy a license for the software.
Save time

and money

Support, assist, interact, and collaborate with people. Exchange information. Access and use technology. One tool makes it possible to work as if you were all in the same room without travel time and expenses.
With TeamViewer, you have everything you need right in front of you.
Focus on your work

, not getting it to work

Solve issues remotely or bring customers and colleagues together without complex steps or onerous prep time.
TeamViewer is designed to get you working in seconds on any device.
Secure

and powerful

TeamViewer enables you to do what you want without any hassle and without any worries.
Private data, private conversations, and private meetings stay that way.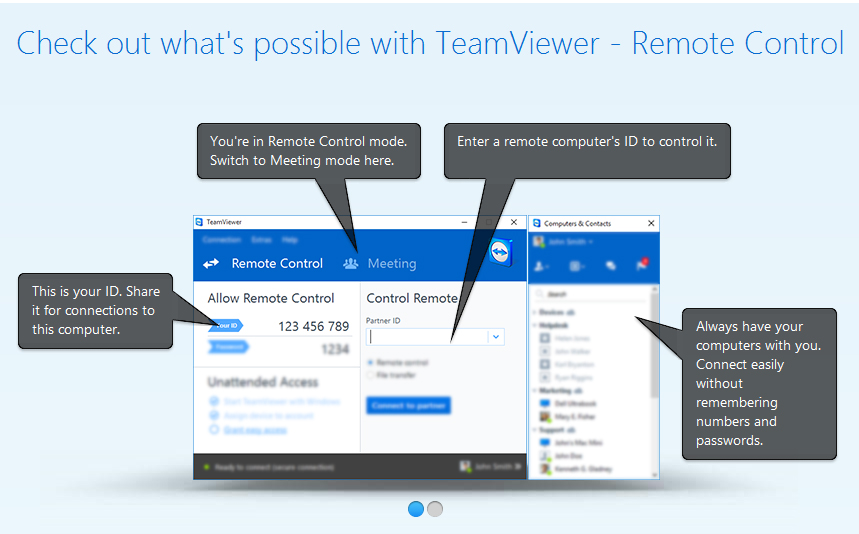 Features
Multi-platform
Cross-platform PC to PC, mobile to PC, and PC to mobile connections that support Windows, Mac OS, Linux, Chrome OS, iOS, Android, Windows App, and BlackBerry.
Maximum compatibility
TeamViewer runs on a broad spectrum of operating systems ranging from state-of-the-art system software to older operating systems.
No configuration
Start and use TeamViewer instantly. TeamViewer even works behind firewalls and automatically detects any proxy configuration.
Easy to understand
Enjoy a state-of-the-art user interface that is clearly arranged, simple, touch-friendly, and quick to operate.
High performance
Intelligent connection and routing, efficient use of bandwidth, fast data transmissions, and automatic quality adjustments ensure an optimized user experience.
High security
TeamViewer utilizes RSA 2048 public/private key exchange, AES (256 bit) session encryption end to end, random passwords for one-time access, optional two-factor authentication, and access controls via black- and whitelists.
International
TeamViewer is available in more than 30 languages and supports international keyboards, which makes it an ideal solution for international use.
Free for testing and personal use
Test TeamViewer for free, without having to provide any personal information. Also, use the software at home for personal use free of charge.
---
Download The Latest Version of TeamViewer
WINDOWS | MAC | LINUX | CHROME OS | ANDROID | IOS | WINDOWS-PHONE | BLACKBERRY
---
Don't forget to like us on Facebook and Google+ as well as share this to your social networks to support us.
Please comment below if you have any query.
https://kamiltech.com/wp-content/uploads/2016/04/AppDownload.jpg
499
1000
Kayyum Patel
http://kamiltech.com/wp-content/uploads/2015/11/logo2-300x88.png
Kayyum Patel
2016-05-23 18:54:36
2019-09-05 22:26:23
Download: TeamViewer to Remotely Access Your Computer from any Platform